The book was mainly created with the intention of growing the Italian public and bringing it to a homogeneous level of knowledge with the other countries. So the primary target is not only the Italian market but all those who are at the first experience in whipmaking.
It contains many testimonials from world-famous performers related to the world of Whipcracking such as Anthony De Longis, Robert Dante and Robert Amper, esteemed friends which over the years I have had the pleasure and honour of collaborating.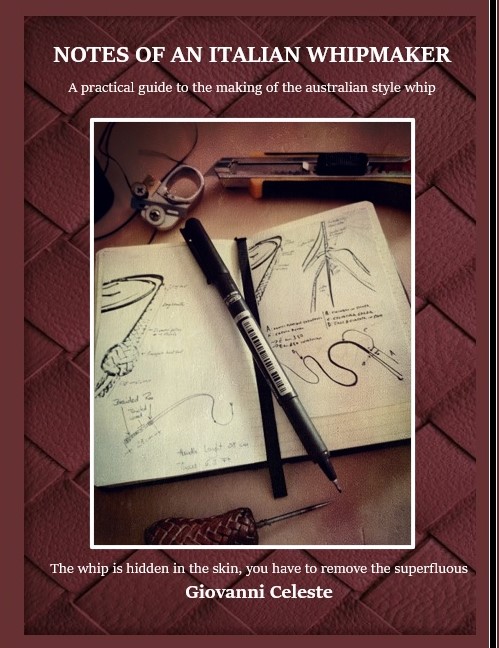 Anyway reading a book is always an interesting experience where you can find and learn different ways and different techniques and you can found the inspiration to create your own unique way.
The first edition of this book will not be finalized in bring you passively step by step in order to make the whip but more importantly, it will explain you how to do it, the reason behind that justifies certain procedures.
It will help you to understand the reasons behind, giving you the information, tools and knowledge necessary for this goal.
So this book should be read with the desire to learn and metabolize the information contained in it to find and create your own style, the only way to create art.
Ps: If you are at your first experience in whipmaking, please fill out the form and you'll receive togheter with the book a set of four strands of kangaroo leather to learn the flat and round braid and a long strand for tying your first knot.
The English and Italian version of the book are officially available. 
The price is € 50.00 plus shipping.
But in the meantime, if you like, you can book your copy right now with a simple email at info@giovanniceleste.it or via my social account.
(link a: https://www.facebook.com/GioWhipmaker )
Thanks again for your interest.
INDEX
1: HISTORICAL NOTES and GENESIS
2: COMPONENTS OF A WHIP – External parts
2.1: COMPONENTS OF A WHIP – Internal parts
3: MEASUREMENT OF A WHIP – Criteria
4: INTRODUCTION TO WHIPMAKING
4.1: PREPARATION FOR BRAIDING – Cutting the strips
4.2: PREPARATION FOR BRAIDING – The braiding soap
5: THE BRAID – Flat section braid
5.1: THE BRAID – Round section braid
5.2: THE BRAID– Calculation of the strips of a weave
5.3: THE DROPPING – How to drop the strands during the braid intreccio
6: THE FALL – Preparation and its fixing
7: THE CRACKER – Preparation and its knotting on the fall
7.1: KNOTING THE FALL CRACKER – several ways
8: ROLLING THE WHIP
9: THE KNOB AND THE TRANSITION KNOT – Construction
9.1: CONSTRUCTION OF THE KNOT FOUNDATION
9.2: BRAIDING OF THE KNOB AND KNOT RING
9.3: CONSTRUCTION OF THE DECORATIVE NODE 4 BIGHTS 5 LEADS
9.4: TWO TONE 4 BIGHTS 5 LEADS KNOT
9.5: THE PINEAPPLE KNOT MADE IN 4 BIGHTS 5 LEADS
10: THE SHELLAC – Preparation and application
11: BREAKAGE OF ONE OR MORE STRANDS DURING THE BRAIDING
12: MAINTENANCE ON THE WHIP
12.1: REPLACEMENT OF THE FALL
12.2: REPLACEMENT OF THE CRACKER AND ITS KNOTTING
13: ALTERNATIVE BRAIDING PATTERN
13.1: FLAT SECTION GAUCHO BRAID – 6 and 8 Strands
11.2: CIRCULAR SECTION GAUCHO BRAID – 12 and 16 Strands