For many Indiana Jones is the archeologist with the hat and the whip, for us whipmaker and for all the enthusiasts keen of whips Indiana Jones is the archeologist with the hat and the David Morgan series 455..
Many tried, many have been trying but no one  will be able to match him…
A great artist can reproduce and replicate a piece of art or even doing it better but he will be a replicator never the creator.
Its clean lines, its simple and attractive style with  harmonious proportions and right choice of colors and patterns make this whip unique and magic.
David Morgan had not simply given life to a stunning whip, he reinvented the whip. He created an icon, a myth that become synonymous of Indiana Jones himself.
The association of this whip with these great movies lead to the resurgence of interest in whips construction and their usage in movie, theatrical performance, collecting and sport.
Nowadays there are many Indiana Jones fans, many of them are keen to crack whips.
I created a Documentary about His life on my YouTube channel.
As many of you know I've always been loving whips just admiring them in movies, pics and circus.
At that time Indiana Jones and his whips represented for me a sort of compendium of the whip
With the advent of the internet, I still remember the first word I entered onto Altavista: whip
I'll never forget that moment.. those 4 digits became a sort of secret password that introduced me to the heaven's door!
After some seconds of visual bombardment of thousands of words apparently disconnected (hide, thong, heavy,cut, bolster, overlay strands, leather, whip, braid, kangaroo,) … two names jump out at my eyes Indiana Jones and David Morgan.
This was my first contact with him.
Maybe it was a coincidence but the name of David and whip have always been connected to each other and crucial for my future whipmaker life.
Davide was a friend of mine who showed me for the first time an Hungarian leather braided whip bought as souvenir.
Davide was another friend of mine who brought me my first Bullwhip from the US.
David Morgan is the man who decreed my adventure as whipmaker more than 20 years ago
Unfortunately I never had the honour to know him personally but I liaised with him via email. I asked him thousands of questions about whips and about his masterpiece: the Raiders Whip.
He helped me a lot by giving me suggestions and tips about what to do and not to do. He was always kind, patience and available but also critical as a good teacher must be.
This was David W. Morgan in whose name stood propetichally the letter "W".
W as William but especially "W" as Whip.
The Lord of The Whip.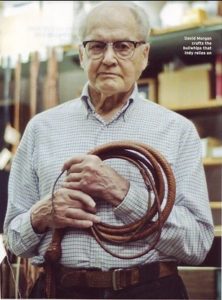 HISTORY
David Morgan was born in Vancouver, Canada May 21, 1925, metallurgist by training and an entrepreneur by nature He and Dorothy founded Austral Enterprises in 1962, which continues to this day as David Morgan, LLC.
David's interest in leather, leatherwork and craftsmanship predates Austral Entreprises.
David was the go to source for answers about any number of craft related topics — Slate production in Wales, ivory and jade carving, basket weaving and hat manufacturing to name just a few.
As the business grew, so did David's interest in braiding and leatherwork. During the 1960's, he made several visits to Australia where he learned the leather and braiding trade from some of Australia's top whipmakers such as Burt Hill, Tom Hill, and W. Millowick.
Along with the details of whipmaking they taught him the history behind whips and their uses.
David shared his knowledge through his four books:  Whips and Whipmaking 1&2, Braiding Fine Leather and Whips of the West.
By the early 1970s the business had expanded to include braiding supplies and braided goods manufactured in David Morgan's his leather workshop.
INDIANA JONES
In 1973, the US placed an embargo on kangaroo skins and products, effectively stopping the supply of Australian whips and braided goods to the US. David decided to keep the trade going by crafting whips from domestic calf skin (kip).
Morgan said. "But I've always done [a] little craftwork of one type or another, and I'd been dealing in whips for some time. I knew what a good whip should be, and I knew I could make it."
Morgan began crafting his whips in calf hide, supplying them to circus performers, ranch hands and a tiny group of whip-cracking enthusiasts enamored with tales of the Wild West.
So David Morgan developed and gave life to a whip style that would soon become one of the best known pop icons in the world.
He produced an American style bull whip with the butt shortened and using an Australian braided belly construction. but extended to two bellies.
Once the embargo on kangaroo products was lifted in 1981, David switched to crafting these whips from the stronger kangaroo leather.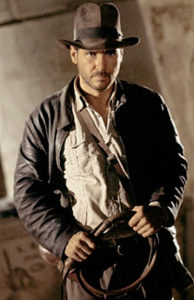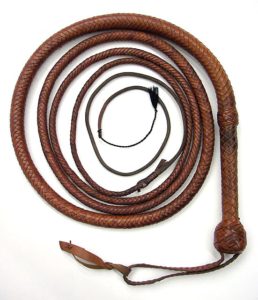 This whip style, the 450 Series, proved popular among stuntmen and performers.
Morgan's reputation grew among a select few, including Glenn Randall Jr., the stunt coordinator for an action movie that would be called "Raiders of the Lost Ark."
Randall placed Morgan's bullwhip in the hands of Harrison Ford, who played the archaeologist-adventurer Indiana Jones.
That movie blew up! Raiders of  The Lost Ark grossed more than $384 million worldwide after its release in 1981.
The whip featured heavily in the movie, and even though Morgan had no direct contact with the cast or crew, his cachet within the whip-cracking community became legendary nonetheless.
David Morgan has established a new standard of excellence in whip making, his Indiana Jones whips have become the benchmarks that whipmakers strive to achieve.
His popularity was also confirmed by awards such as the Wild West Arts Club. It was in recognition of David's  works in Preserving and Promoting the art of Whipmaking and Whipcracking for his innovativeness, creativity and craftsmanship.
Television appearances when the History Channel aired an "Extreme Marksman" segment about David and his whipmaking.
The Indiana Jones movies were the catalyst for revitalizing an interest in whips. And his flagship No 455 10 ft Bullwhip  became an icon, a recognized part of the Indiana Jones character.
The series 455 used in the Indiana Jones movies, is a moderately heavy whip and has a 12 plait kangaroo overlay.
Students, performers, enthusiasts came to Morgan to learn the craft of whip making and to seeing him braiding in front of the hook.
Morgan, designed and handcrafted more than 30 of the now-legendary bullwhips cracked by Indiana Jones in the first three movies.
For "Indiana Jones and the Kingdom of the Crystal Skull," Morgan provided the filmmakers with eight whips, ranging in length from 8 to 10 feet and he was not the only person who manufactured whips for the latest film; an Australian Terry Jacka and the American Joe Strain produced some, too.
Additionally Morgan provided two special whips, one 12 ft length and one 16 ft. length, with either polyester or nylon line running down the center extending 30′ past the end of the braid for use in swinging from one place to another.
All of the whips were 12 plait natural tan kangaroo hide.
AUCTIONS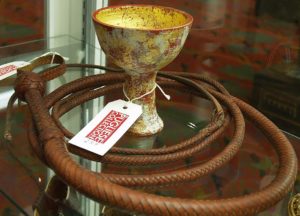 Indiana Jones' popularity shows no signs of waning, exhibited as memorabilia all world museums and auctioned, at an auction of pop-culture memorabilia in Las Vegas March 15, a collector bought one of the bullwhips used by Indiana Jones for $70,150 — more than 78 times its original value.
THE PERFECT INDY WHIP
Over the years, the Morgan's Bullwhips have had some small variations, mainly concentrated in the handle area.
According to David's opinion, these changes are intended to improve the mechanics and dynamics of the whip.
Customers often call looking for a perfect replica of the whip that Indiana Jones cracks in the movies, but no such single whip exists. Indy uses many types of whips throughout the four movies, depending on the effect the filmmakers want to achieve.
Will Morgan, Meagan Baldwin and David's grandson  Alex Ruggeri they are still producing these whips to David's specifications and quality.
DAVID MORGAN AND CINEMA
If the Indiana Jones saga and the over 40 whips made represent the David Morgan "Fortune and Glory" we can't forget two other important films with their whips.
David Morgan, who also created the whips used in "The Mask of Zorro"with Antonio Banderas, Anthony Hopkins e Catherine Zeta Jones and "Batman Returns," with Michelle Pfeiffer as Catwoman took a roundabout path to become whip maker to the stars.
Two types of whips were used in The Mask of Zorro movie, our 450 series bullwhips in black, used throughout the movie, and an Australian target whip, used in an early scene.
David supplied a dozen whips, varying in length from the No. 453 8 foot Bull Whip, the standard whip carried, up to 16 and 25 feet.
Two special order whips, a 14 foot and a 45 foot, were plaited over steel cables supplied by the studio for use in swinging from one place to another.
For Batman Returns Morgan supplied his Australian bullwhips, No. 451C Bullwhip, 6 ft and No. 453C Bullwhip, 8 ft, these whips were dyed black by the studio. The 8 foot length was preferred for most stunts.
WHO IS  MICHELLE PFEIFFER?
Despite his partecipation in major film productions David Morgan was never a big screen watcher.
SoWill the David Morgan's son, tells a nice and funny anecdote:
"I remember Michelle calling and talking to David, presumably when she was training, and because we sold the whip to her / the studio… He finished the conversation and said, does anyone know someone named Michelle Piper?".
WHIPMAKING INFLUENCE
The David's whips, the Indiana Jones movies, along with the readier dissemination of information over the internet, have helped fuel a resurgance in whip making.
David did not always follow his own advice. "Time is money" he would say, instructing us in how to braid efficiently. That advice fell by the wayside many times when he was helping store customers or answering the phone.
It did not matter whether the customer bought nothing or a lot, David was willing to talk, discussing in depth the products.
He was generous with his time with customers interested in braiding and his whips, quite willing to demonstrate how to crack a whip inside our store (sometimes to the astonishment of other customers), or taking them back to his braiding hook for a lesson.
In the last few years of his life, David was challenged first by Alzheimer's disease and later by a stroke.
As per Meagan's memories:
"David no longer is the primary craftsman for his company but when he does take a turn at braiding the malleable leather, Morgan's dexterity belies his 82 years.
Whip making looks so easy when it is in his hands," said Baldwin, who apprenticed under Morgan 13 years ago. "But at the beginning, [making a whip] is like braiding spaghetti with 10 thumbs.
 He's very modest about his contribution to pop culture, maybe partly because he's not that interested in it, but I think that he's more of an icon than he knows," Baldwin said. "Maybe it was just luck or timing, but he helped create this cultural icon."

Through determination and hard work, David regained enough strength after his stroke.
He delegated a great part of his work to his son Will, his grandson Alex Ruggeri and Meagan Baldwin. contributing to manage the family business right up to the last week of his life.
David Morgan, who passed away five years ago on 8 July 2015, he was a man of many talents and a thousand lives:
He was Husband, father, mentor, colleague, entrepreneur, teacher and friend and obviously whipmaker.
He has always been appreciated by everyone, a kind, helpful, sociable, generous man, an excellent and creative craftsman.
We will miss him, but thanks to his work,his huge influence and contribution in whipmaking – the whip shows, the sport of whipcracking, the interest in whips and the braiding leather are back , in large part due to David's work.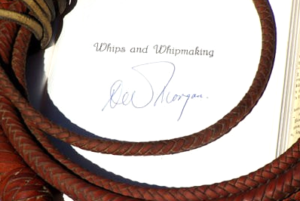 His braiding, his books and his willingness to personally  teach and guide many others who have gone on to pursue braiding and leatherwork.
David Morgan has left a huge legacy but he still lives in the thousands of whips he made scattered all over the world jealously guarded by their respective owners, in his braids, his books and of course his greatest testimonial:
The most famous archaeologist in the world: Professor Jones.
Rip Lord of the Whip, Rip Mr. 455                                Giovanni Celeste