The execution on the whip of different intricate 'Fantasy Patterns' in order to give a different aesthetic note and show off one's virtuosity is always a hotly debated topic.
I personally consider that the use of certain 'Fantasy Patterns' applied beyond the handle area of the whip can influence the final result.
Much will depend on the choice of weave pattern, the area of the whip where it is performed and the experience of the whipmaker in performing such plaiting patterns.
It is no coincidence that the rigid handle of a whip represents, more often than not, a 'safe' area chosen to create imaginative braiding solutions (letters, different braid patterns etc.) where such executions will have virtually no impact in terms of variation in the tension of a whip's braiding.
Non è un caso che il manico rigido di una frusta rappresenti, il più delle volte, un'area "sicura" scelta per creare soluzioni di intreccio fantasiose (lettere, trame differenti di intreccio ecc…) dove tali esecuzioni avranno un impatto praticamente inesistente in termini di variazione nella tensione dell'intreccio di una frusta.
If we define braiding as a series of intersections and windings of several strips between them with intervals of transitions and overlaps with regular sequences on a core, the sudden change of these sequences with different braiding could create a variation in the degree of tension of the braided body between the two areas.
Taking the concept to the extreme, there is no doubt that the effects in terms of tension and compression on a core resulting from the plaiting of 16 strips performed with a "Diamond" sequence ("UNDER 1 OVER 1 UNDER 1 OVER 1) will be more present than the execution of the " Herringbone" sequence ("UNDER 4 OVER 4 UNDER 4 OVER 4), with an increase in the degree of tension and "tonicity" of the flexible body part in the diamond weave due to the very nature of the type of plaiting.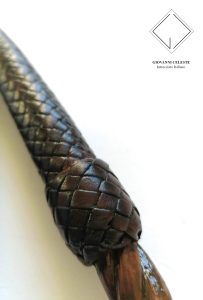 In support of this thesis, many whipmakers, when making the inner braids of a whip using 6 or 8 strips of kangaroo leather, often use the Diamond pattern precisely in the handle/body transition area to further strengthen this area.
The same use and purpose can often be seen in the first few inches of the outer braiding in stock whips or in the handle area of Snake whip or Signal whip or in all whips without a rigid handle.
The diamond pattern plaiting not only favours a firmer grip but also tones up the handle area.
So yes, the type of weave you apply can change the tension level of a woven body, positively or negatively altering its strength.