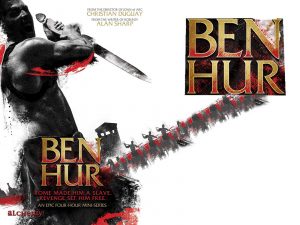 In 2015 I was contacted from Hollywood for the construction of #12 whips which will be used for the filming of the new Kolossal Ben-Hur directed by Timur Bekmambetov.
The film, directed by Timur Bekmambetov and starring Morgan Freeman, Jack Huston, Toby Kebbell, Nazanin Boniadi, Rodrigo Santoro, Sofia Black-D'Elia, Ayelet Zurer, Moises Arias.
Italian released Agoust 2016.
My task is to provide the whips for the famous Chariot/Biga Race
As soon as i'll be allowed i'll show you the pics!
I can only anticipate you that these whips won't be made in "Indy Style" or any other modern style…as a matter of fact I have to provide stuff consistent with the historical period, ie 30 AC.
i've to admit that i did make more elaborate whips but at that time in the mediterranean area the whips were very basic
I submitted 5 different models of whips to the Film Production Prop Manager.
The whips I proposed are all consistent both with the historical period and with the geographical area where 'Ben Hur' lived…
Here below the five different models of whip:
–    Twisted handle with flat tapered rope braid thong
–    Twisted handle with twisted tapered rope thong
–    Twisted handle with flat tapered leather braid thong
–    Twisted handle with twisted tapered leather thong
–    Twisted handle with tapering leather thong
At the end this is the model that had been chosen :
Twisted handle 90cm long with shaped and tapered leather thong 150cm long
Link forum: qui